Cattle & Hum
Underground Music From The Kidderminster Market Tavern 1990 – 1996
Thanks to a brilliant and innovative young promoter called Mark Badgeman the Kidderminster Market Tavern for the first half of the 1990s was one of the West Midlands' best live entertainment venues.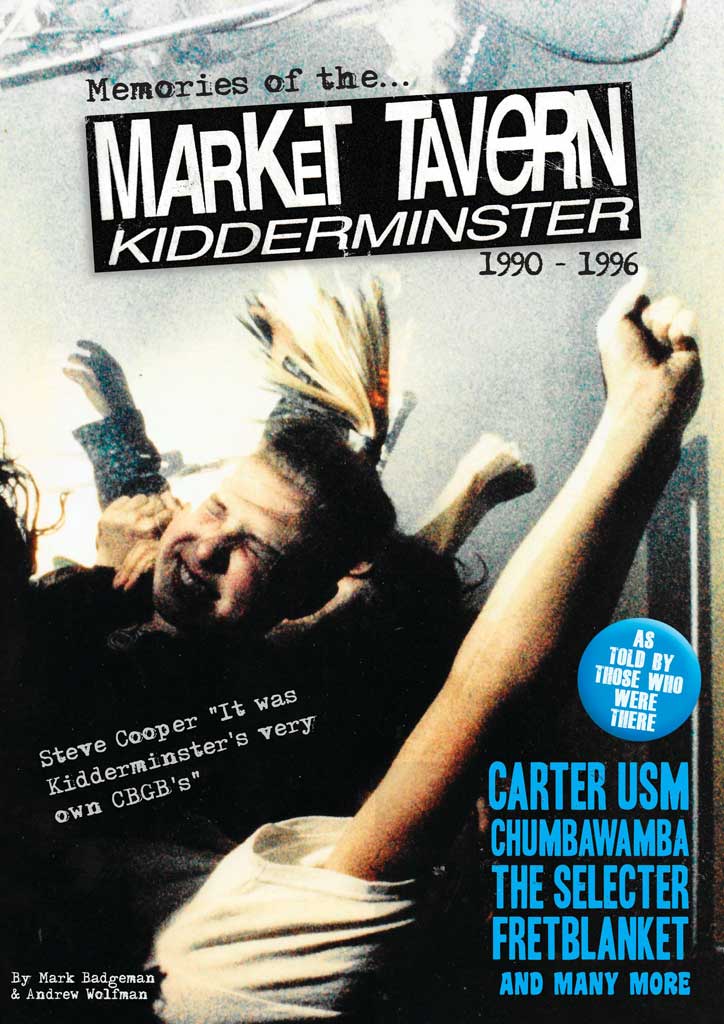 The place was nothing more than a scuzzy, back room bar (capacity 300 punters) in a down at heel pub whose front bar was inhabited by bikers, which meant that for many (including myself) it was the perfect environment to perform and witness live music.
I loved the place, played it many times (as the bass player with Worcester's Another Fine Mess) and got to see so many great shows; Buzzcocks, Radical Dance Faction, Senseless Things, Vibrators, John Otway, The Primitives, Smash, Leatherface, Dr Bison, Chumbawamba, Mike Peters & The Poets of Justice to name just a few.
Situated next to Kidderminster's market (hence the name!), gigs often came with not only the ubiquitous stale beer and cigarettes aroma of such rooms but also another, more earthy one! For the six years the Market Tavern hosted live entertainment it was quite simply an epicentre for in-your-face live music, inventive DJ sets, cutting edge comedy, annual festivals and much more.
When it closed, it left behind huge holes in a vibrant local scene, the UK's touring circuit and many peoples' social lives. Personally, it was a case of not knowing what I had until it was gone and, as time went on, I genuinely mourned its passing.
Now, in celebration of the time and place Mark Badgeman and Andrew Wolfman have compiled the book Memories Of The Market Tavern and a 19-track compilation album Cattle & Hum – Underground Music From The Kidderminster Market Tavern 1990 – 1996.
Both are excellent. The book's colourful, cut and paste style features tickets, posters, band memorabilia, newspaper clippings, photos and short reminisces of shows from the authors and punters who attended. The time and effort that has gone into amassing and organising the wealth of material and information for the book has certainly paid off; and whether you dip in and out, or read it from cover to cover, Memories Of The Market Tavern captures the zeitgeist of so many fantastic shows.
The same must also be said of the album. No quickly thrown together release, the remastered tracks on Cattle & Hum tend towards the more brash, tuneful, guitar-based acts that graced the venue's low stage, and I'm pleased to report that it includes a high proportion of bands that were active on the local scene at the time. Cattle & Hum is not only a perfect accompaniment to the book but a cracking album in its' own right.
I'll hazard a guess that if you played and/or attended gigs at the Market Tavern, then you'll enjoy reacquainting yourself with those far off, heady days by delving into Memories Of The Market Tavern and listening to Cattle & Hum. If you weren't fortunate enough to have been there, then I highly recommend you grab a copy of both and check out what you missed.
The book is available for £20 from https://tinyurl.com/markettavernbook
Each book comes with a free download and unlimited streaming of the album
By: Roland Link