After the passing of Jez Cole, known for running the Worcester School of Rock and Performance (or WSRP) for over a decade and for his musicianship in various local bands over more than twenty years, SLAP pays tribute to his work.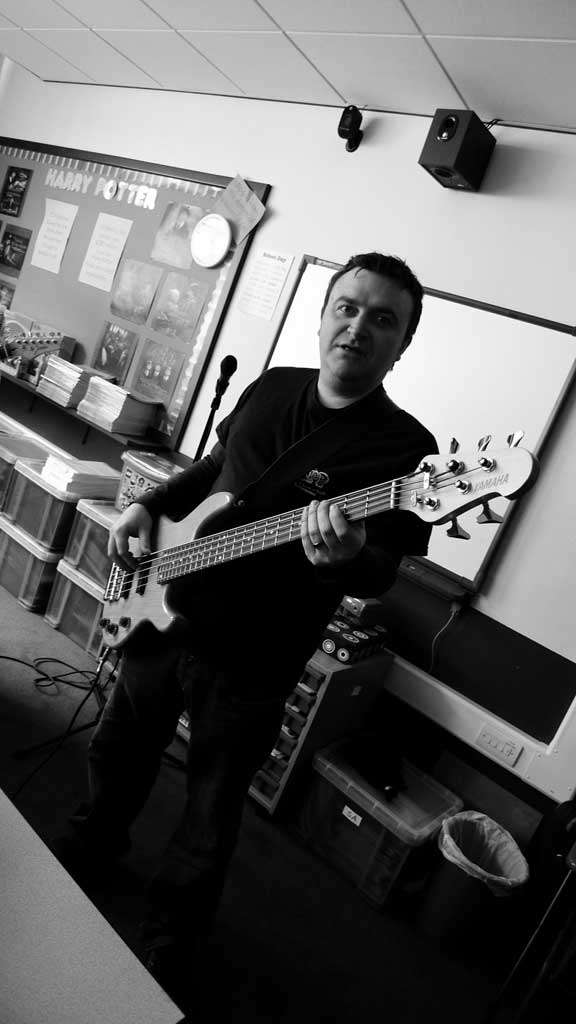 Jez passed away peacefully at home on Sunday the 22nd of November 2020 at the age of forty-eight, after a battle with heart failure caused by Becker's Muscular Dystrophy. His wife Cymone described him as "a great friend," a "super husband," and an "awesome father" to their son Casper.
As well as the enormous loss felt by Jez's family and friends, the Worcestershire music scene has also lost a highly-respected and well-loved figure. Tributes have flooded in across social media, and we have gathered some words from members of the local musical community here.
"Having joined WSRP during Jez's first term in charge, I have had the pleasure of being both his student and colleague over the last eleven years. I have personally seen the influence he has had on the hundreds of students who have joined us each Saturday morning, not only developing their musical skills, but also their ability to work in a band and most notably their confidence.
It is thanks to Jez that Worcester has such a lively and continuing collection of young musicians, many of whom would not be where they are without his support."
Jodie Hughes
Former WSRP Student, The Lightweights
"I attended Worcester School of Rock and Performance in my early teens when the sessions were held at Christopher Whitehead's. WSRP gave me the chance to play with other musicians for the first time and perform in front of an audience at the end-of-term shows held at venues like the Marr's Bar. Jez also taught me guitar lessons and extra music theory tuition that helped me pass my Music GCSE exam. I went on to study music at university and still love to play and make music. I don't know if I'd have taken this path if it weren't for Jez's help and influence, and I'm sure many others would say the same!
The amount of time and effort that Jez put into teaching countless people over the years, purely out of a passion for music and a dedication to inspiring people to pursue it, is astonishing. The impact Jez's work had on the Worcestershire music scene and even further is immeasurable, and his memory will live on in the music played by so many of his students, former students, and others he helped."
Dan Knight
Former WSRP Student, Solo Artist
"I first met Jez around the year 2000, probably in The Swan with Two Nicks where he and I both used to hang out a lot. We were both working as guitar teachers so had quite a lot in common along with certain bands we both liked, like King's X and Rush. It was him who told me that the rock school at the Tech which he worked at was looking for a new guitar teacher. So, with his help I went along and met the chap who ran it, Mick Jones, and got the job. Jez had been with rock school since its beginning in 1997.
As a team we ran WSRP really successfully with a student population which reached three times the size it had been at the Tech. We had an inspirational team of staff covering vocals, drums, guitar and with Jez principally as bass tutor but also helping out with guitar.
His mobility problems had got quite a lot more serious by this year, which was distressing to see after having known and worked with him for so many years, but he was still the same chipper and witty chap he had always been.
I'll always remember Jez as a hugely enthusiastic music-lover, great bass player, long-talker, and always quick to fire a gag into any conversation – those gags didn't always hit the spot but when they did you'd find yourself chuckling away. He was a helpful, kind hearted guy."
Brian Hoggard,
Current owner of Dragon Music
and Worcester Rock School (formerly WSRP)
"I never really got to know Jez on a personal level, only seeing him during Worcester Music Festival. Jez, for several years, ran a Worcester School of Rock and Performance (WSRP) workshop for Worcester Music Festival. He also helped out the festival by loaning equipment that the festival could use in Workshops and small acoustic venues. This was all done for free to help support and develop young musicians.
Over the years, it has been wonderful to see so many bands come through and perform at the festival whose members had attended Jez's WSRP. Not only that, but there are many musicians who attended the taster workshops for WSRP at the festival who went on to join the school, and are now in bands that have performed at the festival and other events and gigs."
Anthony Robbins
Director, Worcester Music Festival
"I first met Jez in the late '90s when he joined one of my early bands as the bass player. He could talk the hind legs off a donkey, but he was a phenomenal musician, always a good laugh, and went on to be a reliable and supportive friend for the next twenty years. In Epsilon Red, our power rock trio, he was effectively lead bassist as his playing was so intricate, and he perfectly "locked in" to Chris Daniels's drums.
His bass skills were, on two separate occasions—including in our 2018 iteration—a perfect compliment to mine and Anna Mason's vocals and guitars in Hitchhiker, and there was never a dull moment in rehearsals and gigs with his brilliant sense of humour. His enthusiasm was infectious, and he will be very much missed not just as a musician but also as an excellent human being."
Sean Jeffery
Solo Artist, Epsilon Red
Jez Cole's contribution to the local music scene will be remembered and appreciated for many years to come. His influence will continue in the music of his former students, bandmates, and collaborators, and his memory through his family and friends.
On the 17th December at 11am, Bearwood Chapel will be live-streaming Jez's memorial service on their Facebook page, and his family invite those who knew him to join the stream and celebrate his life.
By: Dan Knight