If you go down to the woods today you'll find the new offering from Severed Head Entertainment (for those of you who like to be entertained by such like) shot in documentary style and directed by Kidderminster auteur Kieran 'Ran' Edwards. The first conundrum lay with the film's title – is it the Devil's familiar as in 'Satan, I'd recognise him anywhere' or the Devil's Familiar where it refers to a cat or some such, but then the devil is in the detail and the capital F was a giveaway. But there is something very familiar about the film's premise as this falls within the 'found footage' horror genre. As with any self regarding zero budget operation it is a case of working with what comes to hand – the cast for instance includes those seemingly untroubled by never having had to grapple with themes relating to Artauds' theatre of cruelty but nor does anyone barge unceremoniously through the Fourth Wall.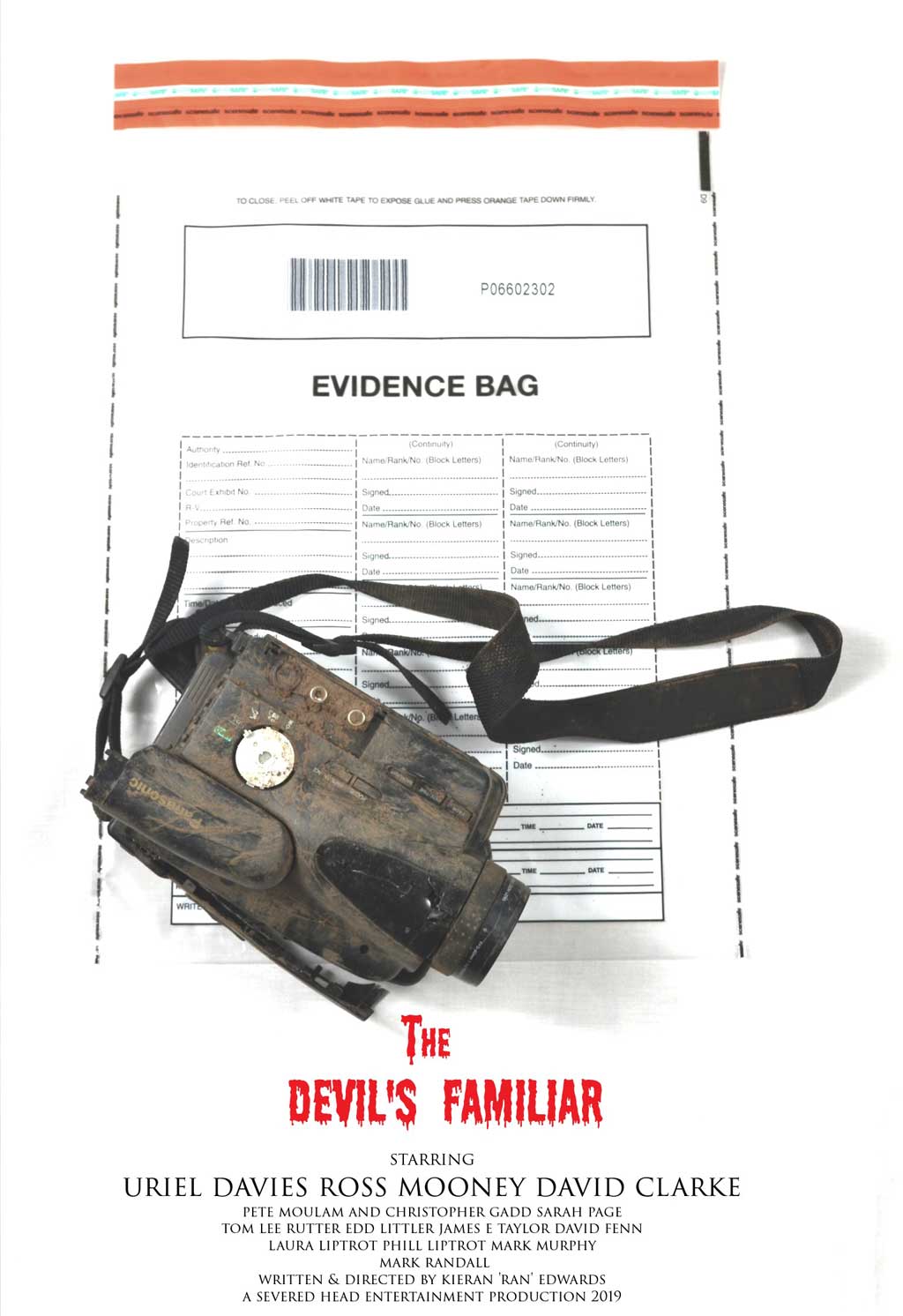 The film apparently has a world wide distribution deal but let's keep it local and cut to the chaste. A film has been handed in at Henwick Police Station. Two enthusiastic film students Elliot Mooney (Uriel Davies) and Jake McIntyre (Edwards) have decided to make a film project about two murders that happened once upon a time in Ribbesford Woods and the subsequent jailing of a woman Sally Edwards (Sarah Page) for the crime, despite her protestations that a mysterious beast was the guilty party. Kudos for being able to walk straight into a secure psychiatric unit and interview a murderess, these days one can't walk unchallenged into an M&S food hall. Anyway, the murders took place in a wood and it's not long before our brave yet inquisitive students plus one of the murder victims' brother Rex Webster (Rob Mooney) and Zoologist David Clarke (Logan DeEmmony) are off following trails without so much as a cagoule or packed lunch between them. Soon there are disagreements, a fight breaks out and before long their micro society begins to disintegrate with the result that one by one they get picked off by a growly yet largely unseen beast. Before we know it we are left with just one plucky investigator (Mooney) and this is probably the most satisfying part of the film since it dispels with any dialogue other than Mooney muttering fuck like an auctioneer stuck on repeat every time he trips over an invisible root or slides down a bank all the while staying one step ahead of his invisible pursuer. Up until here there was perhaps too much dialogue and not enough silence to really let the tension build.
And then it's nightfall – a devil worshiping ritual complete with regulatory goat skull edifice comes as standard with this sort of thing as well as the statutory order to 'Release the Beast!' Out of the flying Pan and into the mire so to speak. Before we know it daybreaks and the woods open up to reveal a green and no doubt God fearing valley where smoke curls from sensibly grouted chimneys beneath which floral wearing housewives read their husbands horrorscopes over milky teas.
Satan is alive and kicking in Worcestershire, catch him whilst you can!
Find out more about Severed Head Entertainment on