The Coral at Huntingdon Hall, Worcester 30th October 2022
The intimate quality of the Hall is ideal for cosy conversations with artists – as tonight proved!
James Skelly (singer and lyricist) and Nick Power (Keyboard & lyricist) of the Coral have embarked on a tour to celebrate the band's first album: The Coral. The premise is to discuss the band's mercurial origins and the eclectic musical results of their far from straightforward journey from Merseyside to upsetting the Mercury Prize judges.
The Coral's prized first album spoke to me on a number of levels, as did tonight.
The first time I saw these Scallies shuffle in front of the cameras on Joolz Holland my attention and curiosity were ignited. The back story of the band's controlled explosion on the music world is one of growing fascination. Skelly's laid back approachadded to the conversational tone of the evening. His ability to capture the mood and specific details of the formative years was engrossing. Just how the band came together through social connections and geography seemed pre-ordained by fate and fruit-machine luck.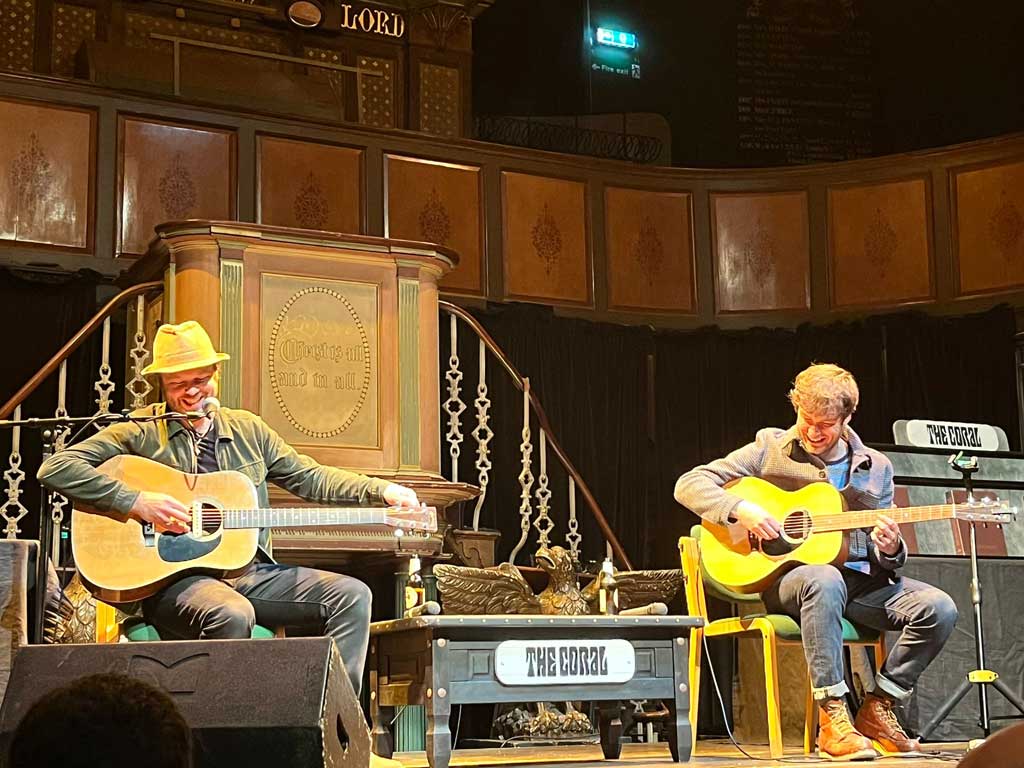 Providence decreed the musical preoccupations of the band members and their knowledge of music would inform their musical output. The personal anecdotes about Readers Digest boxsets simply highlighted how diverse the band's musical diet had become. From Hawaiian tunes, to Egyptian Reggae to the Coronation Street signature tune the bands oeuvre stole from everywhere. The audience leant in to appreciate every syllable, utterance and tangent. Much the same way as the band had hung on Skelly's Grandad's stories all those years ago.
For me there is one word that captured the night: humour. Skelly and Power (and the band) do not take themselves seriously. They are serious about their music but not about themselves. As Skelly proclaimed, "I want to be famous for my songs not for who I am." However, the biggest response of the night was the collective laughter when the lyricist admitted the band had taken "a flight case full of baked beans and a toaster" on their first foreign tour. The laughter rose and subsided before he delivered the punchline…"and probably cost us £2000."
The Q and A session proved just how knowledgeable and enthusiastic the audience were. The probing questions fed knowing and fervent responses, from the duo, about the music scene and where the "streamed" beast is going… In the intimate and cosy surroundings of the Hall the final acoustic song of the night, Dreaming of You, benefited from the confessional aside the lyrics only took a few minutes to write. Astounding. The night proved a success – as all the chatter on leaving the Hall, until the next time, was about the night's troubadours and their music.
By: The Swilgate Scuttler