Joe Wheldon live at The Fox and Hounds, Bredon – 18th July 2020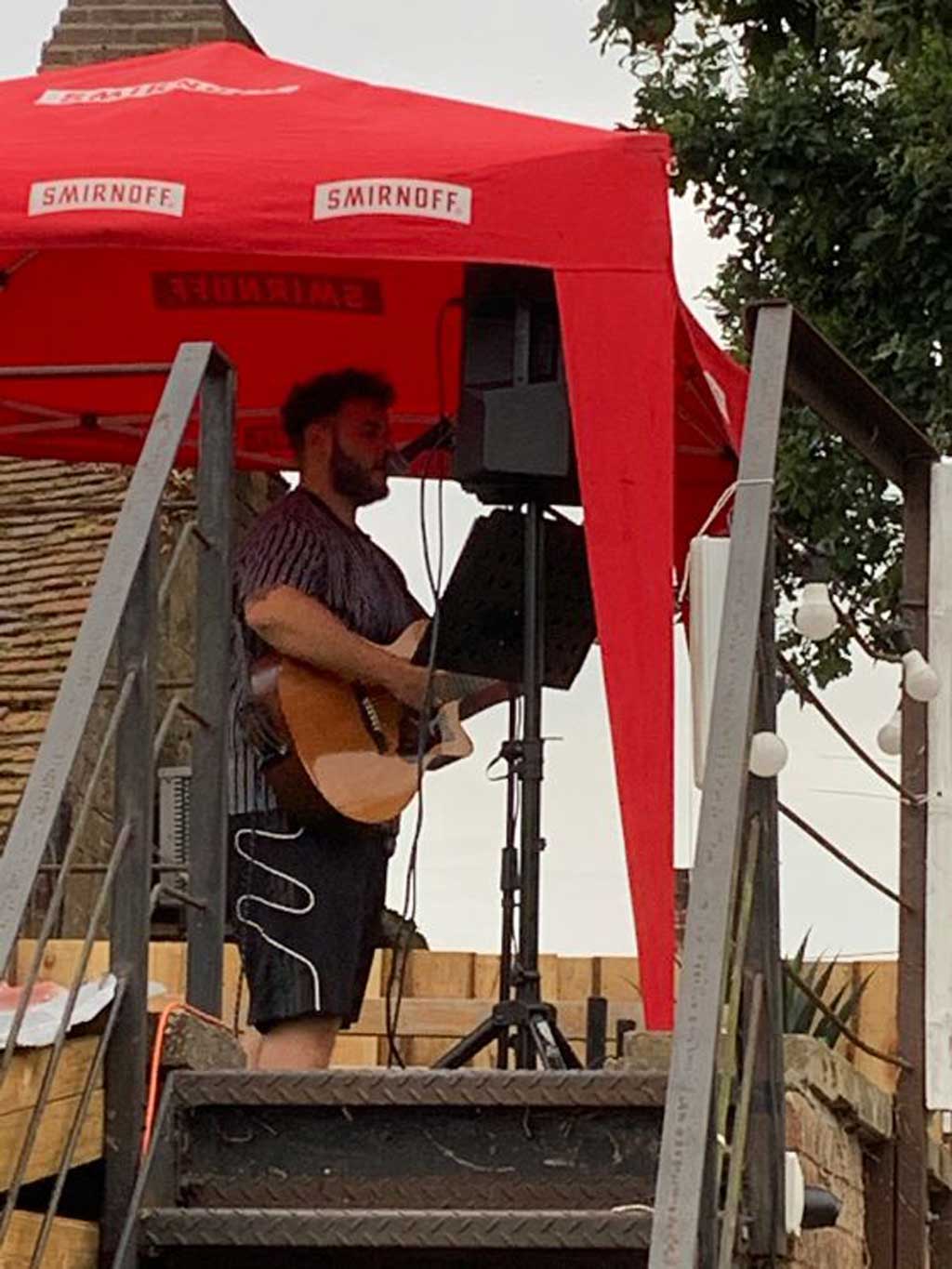 There was something quintessentially English about this open-air gig, I couldn't quite put my finger on, in this rural part of Worcestershire, at The Fox and Hounds, on a grey overcast Saturday night, where even the sun threatened to make an unscheduled appearance. Perhaps it was the burgers offered up from a converted horse-box? Who knows and regardless of the tickety-boo surroundings the real reason we had ventured out, was our own Poundland troubadour: Joe Wheldon…
Untroubled by a dour skyline and alongside the thatched-roof of the quaint pub on his elevated stage; our Joe sallied forth armed with only a single-barrelled guitar and an ammo box of songs. Wheldon's knowledge of his audience and their Saturday night requirements – aside from frothy beer, fancy cider and fizzy wine – meant the "chicken in a basket" approach worked well for all involved. The self- satisfied noise from the swollen numbers in the beer-garden may have out-foxed Wheldon, as he struggled to hear himself singing from his (dis)advantaged-point but he hounded his grateful audience with a repertoire of songs old, borrowed and new that was a marriage of sing-a-longs and reflective hymns that allowed the drinkers to look on and reminisce – "for when times were normal?"
This normalised Saturday night, following the last four months, really did seem half the world away: "I can feel the warning signs running around my mind."
Mindful of the conflicting cloud formations the assembled throng kept a watchful eye on the weather – how very English. JW from his watchtower kept a professional and watchful eye on proceedings whilst interspersing pub classics with the troubadour's specials of the day. Ooh la la! The Jam's Town Called Malice allowed for one or eight involuntary air punches and House of the Rising Sun provoked individuals, that had long since stopped worrying about hair-gel, into singing along in unison.
The crowd were united with Wheldon and this allowed for one or two musical experiments, which hinted at Joe's own direction. The knowledge that his new band Joe Wheldon & the Offshore is in the nascent stages of evolution is comforting for all that witnessed the force of nature that is Joe Wheldon and realised there is so much more to come…
Come on – Joe, well done – for what must have been a challenging gig. As we know the English always like the last word, however, graciously the final observation comes from the American comedian Rich Hall who captures the very quintessence of English understatement in the pithy statement…"well, that went surprisingly well, considering." And indeed it did.
By: The Swilgate Scuttler
Find out more about Joe Wheldon